News, Announcements & Events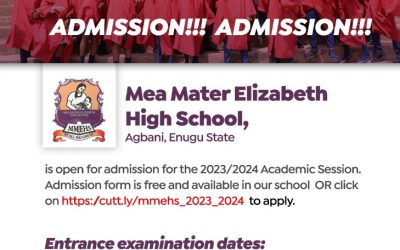 Mea Mater Elizabeth High School, Agbani Enugu State is open for admission for the 2023/2024 Academic Session. Admission form is free and available in our school OR click the link https://cutt.ly/mmehs_2023_2024 to apply online. Entrance examination dates: Every...
read more
Our Goal
The major goal of MMEHS is to equip its students, utilising its abundant facilities, with all they require to live a useful life in any part of the world.
The School
HOME PAGE
ABOUT US
OUR GALLERY
CONTACT US
Useful Contacts
Principal
Tel: +2348058015378
Email: principal@mmehs.com
Vice Principal (Academics)
Tel: +2348062174886
College Secretary
Tel: +2348039316392
Contacts
Mea Mater Elizabeth High School, Ojiagu-Agbani, PMB 01610 Enugu Nigeria.